Not sure about your family, but for mine there's nothing that whispers "Perfection!" better than the blended sounds of ocean waves, rustling palm fronds, and live music carried on tropical breezes across a white-sand beach.
The sunny southeast coast of Florida offers all that plus lots more options beyond simply soaking up the rays on a beach blanket. North of Miami Beach is the fun and fancy Palm Beach district. (Read about our delightful previous visit to Miami and Little Havana.)
The rise of this region truly began in 1912, the year that oil and railway tycoon Henry Flagler initiated a new era of prosperity in the state with the completion of a railroad that island-hopped the Florida Keys.
Along with the rail line, Flagler constructed stylish hotels at strategic points along the route. In fact, it seems that Flagler "invented" what we've come to know today as the south Florida lifestyle.
In time, Flagler's own elegant Palm Beach estate, which he named "Whitehall," became Florida's first official museum. Many of the mansion's 55 rooms are filled with European art and antiques, themed to create "Period Rooms."
A second great repository of world-class art appeared here in 1941. Wealthy Chicago steel industrialist Ralph H. Norton donated his entire art collection, much of it dating from the 18th century, to the city of West Palm Beach. Newer pieces were added later, swelling the total to over 7,000 works of art inside today's Norton Museum of Art.
Ralph's widowed wife created the outdoor "Ann Norton Sculpture Gardens" nearby, featuring among other work her own mysterious handmade brick "megalith" towers, which resemble Tibetan shrines.
While these exhibits are inspiring, kids might consider art museums a digression from precious days in the sun. There's a worthy compromise, however, on the grounds of the magnificent Delray Beach Morikami Museum and Japanese Gardens.
A century ago, some young Japanese farmers created a pioneering farming community here. Their colony eventually faded away, but in its place today are the gardens, filled with spacious landscapes, arched bridges, small lakes, and bonsai trees.
Heading further north to a seaside town named for a planet, the 1860 coral-orange landmark Jupiter Inlet Lighthouse is impressive. Their History Museum reminds us that long before Europeans arrived, Native Americans had been inhabiting these floral wetlands for at least 5,000 years. On the museum veranda, a music club was strumming their banjos and guitars, singing popular Bluegrass tunes.
A short distance away, the Maltz Jupiter Theatre was putting on a famous Broadway musical, but that evening, we caught a live show of world class entertainment at the Kravis Center Theatre in West Palm Beach.
With endless days of sunshine, fans of America's Pro Golfing Association [PGA] spend a lot of time in Palm Beach. For non-golfers, there's great meals, a large pool and massage treatments available at the PGA National Resort & Spa. [Book now]
Another recommended night out is experiencing a Chef's Table Dinner at "3800 Ocean," on Singer Island, named after the sewing machine king. Our favorite item at Marriott Singer Island Resort & Spa was Chef Gustavo Calderon's "Island fish & vegetable with avocado sauce."
Another hit is French chef Daniel Boulud's Palm Beach Café Boulud in the Brazilian Court Hotel. It has an outdoor terrace and indoor restaurant with a shimmering sea shell and cypress ceiling. I took a liking to their poached halibut with turnip and grilled romaine lettuce [now, that's a first].
Inspired but more down to earth, or rather down to sea, was PB Catch Seafood & Raw Bar. Their menu is cute: "Seacuterie" instead of charcuterie for plates of smoked and cured fish. And yes, the PB stands for Palm Beach, not Peanut Butter.
Palm Beach island itself is separated by bridges from the larger city of West Palm Beach, obviously to the west. On the island, palm-tree lined Worth Avenue is akin to L.A.'s Rodeo Drive, filled with high-end shops and boutiques selling luxury goods.
Famously, Palm Beach is also the declared home of a certain American president in partial residence there. Visits to Mar-a-Lago are strictly by invitation only. But no need to feel out of the loop. You'll be welcome at the Chesterfield Palm Beach hotel on palm-lined Cocoanut Row. [Book now]
The Chesterfield is a fashionable architectural blending of Gilded Age glamour and colonial charm. Graceful and chic, it exudes an unpretentious air of attentive hospitality, including British-style afternoon teas. In their legendary Leopard Lounge, chef Gerard Coughlin presents classic chicken curry with jasmine rice and mango chutney, and dishes such as wood grilled veal chop, lobster risotto, or shrimp Stroganoff that fit right into that genteel image.
Many consider Palm Beach to be the Beverly Hills of Florida. Still, it is nature and the sea that give it all meaning. On our last night, the soothing voice of ocean waves carried us through a final Florida sunset, leaving us thankful to have shared this spectacular land.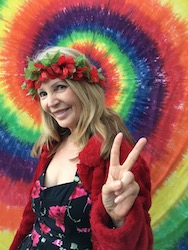 Terra Muzick lives in San Francisco's Bay Area and travels frequently to "the funnest places," in the USA, Europe, Asia, Middle East & Australia. Contact her at
BayDreamer333@zoho.com
Eugene-based Joseph Lieberman has spent the past 20 plus years visiting 58 countries on 6 continents. Contact him at gone2oregon@yahoo.com