Dining in a "big" city, you don't often find fresh, local food prepared in a way that sustains the community and the environment. And on a road trip, teaching kids about farming is something you certainly don't expect one block down from the bus stop.
The greenest restaurant in the city of Chicago, third-party certified by the Green Restaurant Association, Uncommon Ground has been shifting the urban restaurant paradigm for the past twenty years.  Expanding from the flagship location in Wrigleyville (near the Chicago Cubs), restaurant owners Helen and Michael Cameron now have locations in Edgewater and Lakeview.
Supporting local agriculture by purchasing locally-produced food, free of herbicides, pesticides, antibiotics, hormones, or genetically modified ingredients, the Camerons have become one of their own suppliers with the addition of an organic farm atop the roof of the Edgewater location. Meshing the food harvested on the rooftop garden to the kitchen creations one floor below, the Camerons harvested just over one pound of produce/square foot from their rooftop farm in 2010—the majority of which fed an average of 200 people on any given day.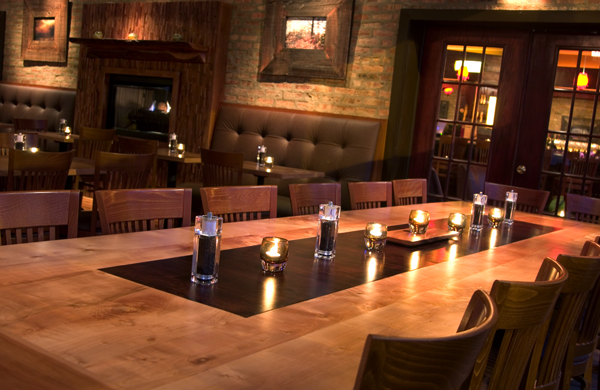 Family dining at Uncommon Ground is anything but ordinary. With a kids menu for breakfast (served until 3PM) and lunch and dinner (served all day), healthy choices for kids are plentiful. From farm fresh scrambled eggs ($3) to a grilled cedar grove cheddar cheese sandwich ($5) or the griddled gunthorp farm chicken tenders ($6), sides including seasonal vegetables, fruit, and sweet potato fries can be added fora few dollars more.  Hormone-free milk (white and chocolate) and even a kid s'mores cocoa topped with house-made marshmallows and graham crackers ($3) will whet your appetite. Make sure to point out the tabletops; crafted from trees that fell during a windstorm in nearby Jackson Park.
With live music seven days a week, Uncommon Ground is known for its entertainment as much as the food. Plan your visit on a Friday and take advantage of the rooftop farm tours (first Friday of the month in warmer weather), food sampling and educational programs on urban agriculture. Any way you look at it, a trip to Uncommon Ground will leave you hungry for more.