Milwaukee, Wisconsin has seemingly no shortage of indoor and outdoor options for families road tripping through the Midwest—so much so, the Big City on the Lake remains high on our list of "must see" metro areas in America. While we've written extensively about Milwaukee in past years, we visited the city earlier this month and have compiled this new Top 10 list of iconic Milwaukee destinations to get you started planning your own vacation.
Kopp's Frozen Custard
Website: https://kopps.com/
For the complete Wisconsin dairy experience, you need to cross soft serve off your list and make the upgrade to custard. In Milwaukee, Kopp's Frozen Custard is the iconic place to eat custard and be seen. The city has three locations (another is pictured in this story). We hit the Greenfield location this trip – there's nothing like the backdrop of the urban waterfall on a hot summer night.
Miss Katie's Diner
Website: https://www.misskatiesdiner.com/
Miss Katie's Diner is where you should have breakfast at least one morning. We love this retro 50s diner on the fringe of the Marquette University Campus (find more photos in this story). With rising food prices everywhere, Miss Katie's still feels affordable. If you go, pop into the main dining room and see photos of Michelle Obama, Bill Clinton, and other local and not-so-local celebrities.
Colectivo Coffee Lakefront
Website: https://colectivocoffee.com/cafes/lakefront
Built in 1888, the historic Milwaukee River Flushing Station is now home to Colectivo Lakefront, a unique cafe brewing coffee with artisan pastries and sandwiches. Excellently situated at the intersection of Lafayette Hill Drive and North Lincoln Memorial Drive, Colectivo Lakefront is a great place to start or end your lakefront adventuring. In the warmer months, watch boats come into the Milwaukee Yacht Club from the outside seating area. Before you go, be sure to explore the pump room and the innovative equipment that once pumped more than 500 million gallons of water into the Milwaukee River each day.
The SafeHouse Milwaukee
Website: https://www.safe-house.com/
The SafeHouse restaurant and bar remains at the top of the list for Milwaukee's top-secret spy finds. Located downtown near the Milwaukee River, the main entrance is down a side alley near the historic Pabst Theater (hint: we've uploaded a photo of the entrance in this story). We've frequented the SafeHouse more times than we can count in the past twenty-five years always discover something new and noteworthy; this time around was a full-building scavenger hunt complete with sidebar magic show.
Book Your Stay in Milwaukee
While visiting Milwaukee, we enjoyed the clean and modern (and conveniently central downtown location) Cambria Hotel Milwaukee. Kids will love the swimming pool. Parents will love the bar and snacks in the lobby.  Or use this interactive map to find a place perfect for your own family:
Mitchell Park Domes
Website: https://county.milwaukee.gov/EN/Parks/Explore/The-Domes
On more than one occasion, Milwaukee's Mitchell Park Domes have saved my mental health in the depths of the darkest of Wisconsin winter days. Visitors to the county park experience three different climates-tropical, desert and floral-in three different beehive-shaped glass domes that span 140-feet in diameter and 85-feet in height. A landmark on the Milwaukee skyline, it's hard to miss this popular year-round indoor/outdoor garden attraction.
Harley-Davidson Museum
Website: https://www.harley-davidson.com/us/en/museum.html
Nestled on a peninsula of land where the Menomonee and Milwaukee Rivers converge, the Harley-Davidson Museum is a stone's throw from the city's Historic Third Ward, Walker's Point and Downtown Milwaukee. Celebrating 120-years this year, Wisconsin-based Harley-Davidson remains one of the most desirable motorcycle brands in the world. Read our recent and complete review of the Harley-Davidson Museum in this story.
Organ Piper Pizza
Website: https://www.organpiperpizza.com/
Ranked high in our 10 Amazing Places in Wisconsin story, Organ Piper Pizza is 100% worth the short drive into the Milwaukee suburbs. Delighting and entertaining patrons since 1976, the Organ Piper experience is as much about enjoying pizza is it is listening to the sounds of the Mighty Wurlitzer, one of a handful of vintage theatre pipe organs scattered around the country. Patrons dine in the main dining room and look for their order number to light up on the old-fashioned marquis (there's a small arcade room in the upper level seating area). As you enjoy your pizza, the special treat is the musical performance and interactive elements linked to the organ keys (cymbals chime, dolls flip, ducks quack, and a giant American flag drops during patriotic times). Leave your song requests in the fish bowl next to the organ player's bench.
Milwaukee Brewers Stadium and Game
Website: https://www.mlb.com/brewers
Baseball. Bratwurst. Beer. It doesn't get more Milwaukee than a Brewer's baseball game. Never worry about a rain delay at Brewer's Stadium; the retractable roof opens and closes with the weather at American Family Field. Fireworks launch and Bernie Brewer takes a ride down the yellow slide when the Brewer's hit a home run. Purchase your parking ticket with your tickets and save $5 in the process.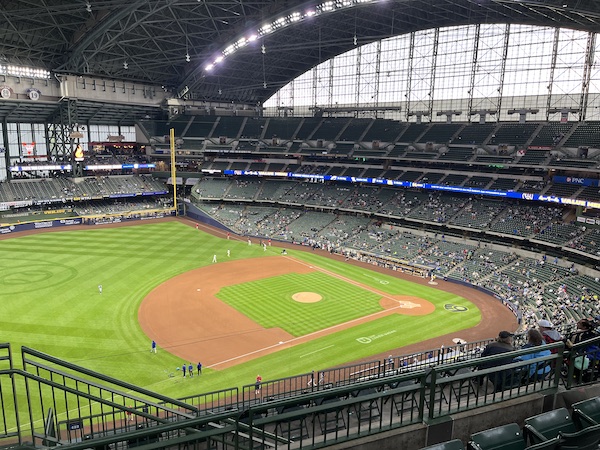 North Point Lighthouse and Museum
Website: https://northpointlighthouse.org/
Featured in our Lake Michigan Circle Tour story, the North Point Lighthouse and Museum brings you into the middle of some of the most affluent of Milwaukee's neighborhoods. A key stop in the city's picturesque Lake Park, the lighthouse was built in 1888 and is listed on the National Register of Historic Places. A maritime-themed museum open to the public, visitors can book an educational tour in advance and make the most of their visit.
Ghromann Museum at the Milwaukee School of Engineering
Website: https://www.msoe.edu/grohmann-museum/
In the heart of the Milwaukee School of Engineering campus, The Grohmann Museum houses an extensive collection of artwork dedicated to the evolution of human work. Spanning three-stories and a rooftop sculpture garden, Hosing over 1500 European and American paintings, sculptures and works on paper that depict various forms of work, the museum was named in honor of MSOE regent Eckhart Grohmann who donated his "Man at Work" collection to the university in 2001. Author's note: I received my undergraduate degree from MSOE in 1999 and have followed its development and growth in alumni updates over the years – don't turn down the opportunity to visit this museum. You will be both pleased and surprised.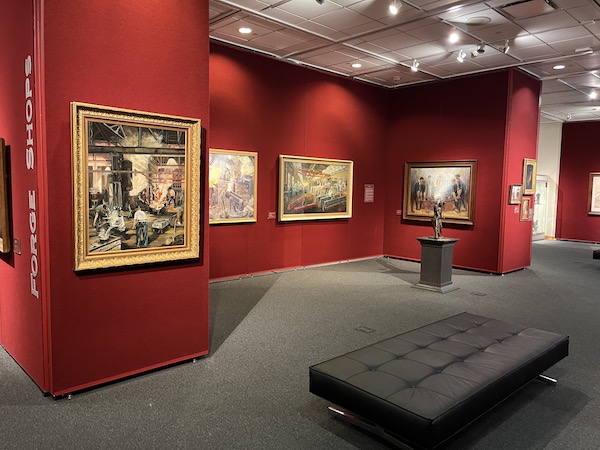 Renaissance Book Shop at the Milwaukee Airport
But Wait, One More!
On the off chance, you're flying into/out of the Milwaukee Mitchell International Airport, arrive early or stay late to browse through the used books at the Renaissance Book Shop (the bookstore is outside of security so you could check this out if you're waiting for guests to depart or arrive). The book shop is located next to a small museum commemorating aviation history and in Milwaukee and beyond.
Do you have a favorite Milwaukee destination? Leave a comment below.
Happy Trails!
Feature photo: Historic Brady Street