One of the biggest jobs associated with camping as a family is keeping everyone fed. Hot dogs over the fire are easy enough, and a variety pack of those little cereal boxes make breakfast as easy as pulling a jug of milk from the cooler. But go the extra mile with one or two meals and camping becomes an outing everyone looks forward to, and cooking can keep everyone involved.
Our Ovens
A classic piece of camp kitchen equipment is the Dutch oven. Several companies make cast iron Dutch ovens for campers—the typical design has legs and a rimmed lid to keep coals on top—but the most popular has to be the one from Lodge.
Lodge has been making Dutch ovens for over 100 years, and some of those early pots are still in service. Cast iron will last for more than a few lifetimes if taken care of.
One of the limitations of cast iron, however, is its weight. This didn't matter much to pioneers heading west on the Santa Fe Trail, or the camp cook laboring away to feed and army of lumbermen. And it may not be important to you either—what's an extra 20 pounds in the trunk of the car? But when weight matters, Dutch oven cooks have a great option. Cast aluminum is durable, non-stick, and light as a feather (okay, not really that light, but you know). The hard anodized aluminum oven we used came from GSI Outdoors, a company that makes a lot of great camping gear.
Because of its weight, the GSI oven can be brought along much easier than cast iron. I would look for the oven that has legs. It's not a big deal, but if you have one with no legs, it requires a bit more turning on the coals to avoid hot spots.
Not Just a Job for Dad
Dutch oven cooking can be an activity for the whole family. Many of the recipes you find are a hodgepodge mix of ingredients and invite creativity. Let the kids help plan meals, choosing recipes and tweaking them with their favorite ingredients. At camp, they can be involved cooking directly in the oven (if old enough) or help prepping ingredients.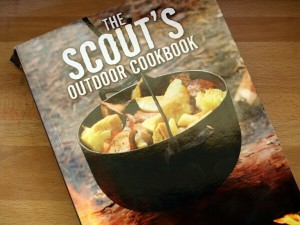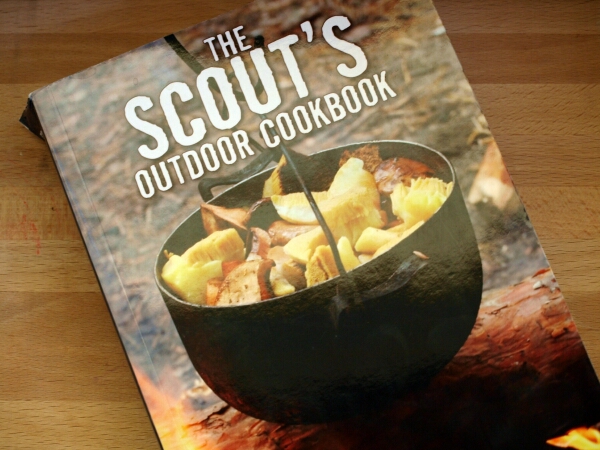 When looking for meal ideas, start with the The Scout's Outdoor Cookbook. Not every recipe in here requires a Dutch oven, but those recipes that do take up a good part of the book, and the other recipes will get you thinking about other meals.
A lot of the recipes in this book will feed a small army (8-10 people), so there is some adjusting to do if your family is smaller than this. (Or you could just invite along another family to join in the fun!)
We started with the first meal of the day and tried the Feed-'em-and-Go Dutch Oven Breakfast (recipe at end of post). The smell of the sausage browning would raise a hibernating bear (it'd come out of the tent with a smile on its face and make the coffee while it waited). Add eggs (a dozen!), cheese, potatoes, and some veggies, and you have a filling breakfast casserole.
The other thing Dutch ovens are good for is dessert. I fell in love with Dutch oven cooking as a boy when  a camp leader lifted a hot, cast-iron lid and scooped out the best peach cobbler I ever had. We decided chocolate and peanut butter were in order and tried making a brownie. The easiest route is to grab a box of brownie mix and just follow the directions on the box. We skipped the oil and added a half cup of peanut butter. There's also a simple recipe for a chocolate–peanut butter swirl brownie in the Camp Dutch Oven Cooking 101 cookbook from Lodge.
Good meals and activities to fill the time are a big part of successful family camping trips. Dutch oven cooking fills the bill on both counts.
The Recipe
We would love to hear about your favorite Dutch oven recipes (or any great camp recipes, for that matter). Here's the recipe we road tested for this post:
Feed-'em-and-Go Dutch Oven Breakfast
From The Scout's Outdoor Cookbook by Christine & Tim Conners.

What you'll need:
1 lb uncooked spicy breakfast sausage (we used regular)
1 30-oz. package of frozen hash browns, thawed
1 small bunch green onions, diced (optional, we skipped it)
1 bell pepper, chopped (optional, we included it)
2 Tb chopped jalapenos (not in the original recipe, but seemed like fun idea)
2 cups shredded sharp cheddar cheese (we used colby jack)
12 large eggs
1/2 cup milk
Salt and Pepper
What you'll need to do:
Brown sausage in Dutch oven, then drain grease and set aside
Line bottom of oven with hash browns, press them down lightly
Layer on the veggies. We just went with the pepper and a little jalapeno, but the family agreed more veggies wouldn't have hurt a bit!
Spread the sausage over that.
Sprinkle even layer of cheese cheese over the sausage.
Whisk the eggs and the milk, and pour the mixture over the cheese, letting it soak down into the hash browns.
With 10 briquettes under the oven and 17 coals on top, heat for 1 hour or until the eggs set. You will need to watch the coals and replenish them to maintain even heat.
Remove from coals and let stand for 15 minutes. Serve and season to taste!