Nestled deep in the heart of California's Sierra Nevada Mountains, Yosemite National Park is one of America's most spectacular sights. Its alpine scenery is bursting with superlatives: the highest waterfall in North America (Yosemite Falls), the most famous vertical rock face in the world (El Capitan), and the largest organisms of all time (giant sequoia trees). But no statistic can ever capture the park's staggering beauty. Yosemite's sheer cliffs and thundering waterfalls have inspired some of the world's finest artists, and they continue to lure millions of visitors each year.
Located about three hours east of San Francisco, Yosemite is one of the country's most accessible national parks. It's possible to make a quick day trip to Yosemite, and many people do. But as legendary park ranger Carl Sharsmith once replied when asked what he would do if he only had one day in Yosemite: "I'd sit by the Merced River and cry." Yes, Yosemite is that beautiful. To spend only one day there would be to miss out on some of America's most spectacular natural scenery.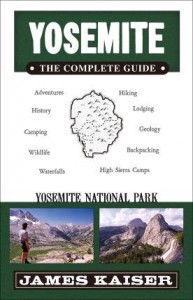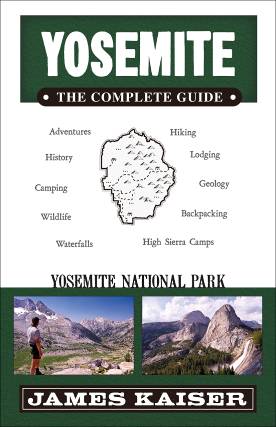 Day 1
Get to know Yosemite Valley
Yosemite Valley is the crown jewel of Yosemite National Park. Just seven miles long by one mile wide, it represents less than 1% of the park's 1,200 square miles. But this glacially sculpted valley, framed by towering 3,000-foot cliffs, offers dozens of remarkable sights, including seven waterfalls over 1,000 feet tall. At the far eastern end of Yosemite Valley lies iconic Half Dome, one of the most dramatic rock faces in the world. As noted nature writer John Muir once wrote of Yosemite Valley, it's "as if into this one mountain mansion Nature had gathered her choicest treasures." A free shuttle makes regular trips around Yosemite Valley, but it's better to explore the Valley on foot or on bike (there are dedicated trails for both). Another option is to pay for an open air, narrated tram tour.
Day 2
Hike to the Top of a Waterfall
Strap on your hiking boots and head to the Mist Trail, a dramatic hike to the top of 317-foot Vernal Fall. When the waterfall is gushing with snowmelt in the spring, expect to get wet. (There's a reason it's called the Mist Trail!) After soaking—literally—in the rainbow-filled views of Vernal Fall, you can retrace your steps or continue 1.4 miles further to the top of 594-foot Nevada Fall. The only drawback: the crowds. On weekends in July and August, the Mist Trail can get very crowded. Another option is the Yosemite Falls Trail, which is much more strenuous, but much less crowded. Whatever hike you choose, celebrate at the end with a trip to the majestic Ahwahnee Hotel. Rooms here start at $300 a night, but anyone can enjoy a drink or snack on the beautiful patio outside.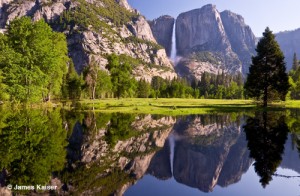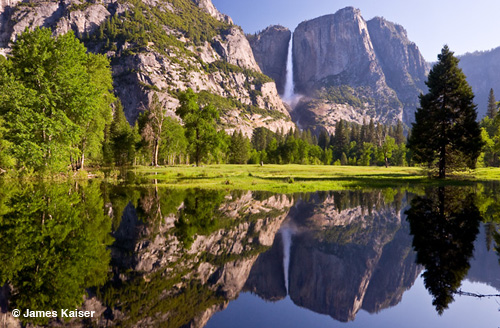 Day 3
Check out the view from Glacier Point
The views from the floor of Yosemite Valley are amazing. But the views from the cliffs above Yosemite Valley are beyond belief. Half a dozen hiking trails head up the sheer cliffs surrounding the Valley, but there's an easier way to take in the views: drive 40 minutes to Glacier Point! Perched on a cliff 3,000 feet above Yosemite Valley, Glacier Point offers breathtaking views of Half Dome, Yosemite Falls, and the surrounding mountain peaks. Nothing puts the majesty of Yosemite in perspective like a trip to Glacier Point. Several terrific hiking trails are located nearby, so pack a picnic lunch and spend a full afternoon exploring the nearby sights. Glacier Point is also one of Yosemite's most popular sunset destinations, and free ranger talks are offered after sunset.
Day 4
Head Deep Into the High Sierra along Tioga Road
Once you've explored the sights in and around Yosemite Valley, follow Tioga Road into the High Sierra—a pristine alpine wilderness above 8,000 feet. Forty-six-mile Tioga Road passes by some of the most remarkable scenery in the park, including the Tuolumne Grove of Giant Sequoias (home to over two dozen giant sequoia trees), Olmstead Point (which offers dramatic views of the backside of Half Dome), and Tioga Lake (a crystalline alpine lake surrounded by sparkling granite domes). Finish off the day at Tuolumne Meadows—the Sierra Nevada's largest subalpine meadow—where you can pitch a tent at Tuolumne Campground or spend the night in a rustic tent cabin at Tuolumne Lodge.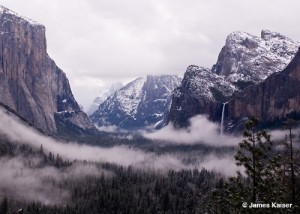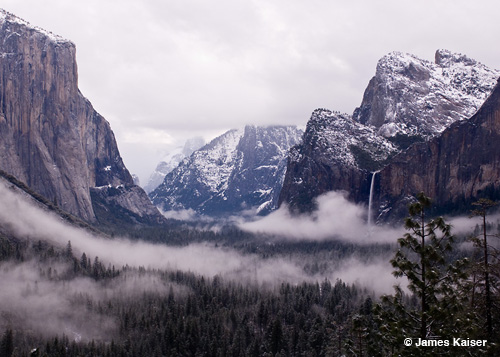 Day 5
Kick Back in an Gorgeous Alpine Meadow
Tuolumne Meadows is far less crowded than Yosemite Valley, making it the perfect place to kick back and relax. Its peaceful vistas, balmy summer temperatures, and fresh mountain air are beyond compare. There are also nearly a dozen hiking trails nearby, including Lembert Dome, a moderate hike to the top of a glacially sculpted granite dome with dramatic views of Tuolumne Meadows. If you're looking for a longer hike, consider hiking along the Tuolumne River to Glen Aulin, where a majestic waterfall cascades into a shallow pool surrounded by wildflowers. No matter how you choose to spend your day, finish things off with a hearty, delicious dinner at Tuolumne Lodge.
Day 6
Explore the Dramatic Desert East of Yosemite
Head east from Tuolumne Meadows and soon you'll reach Tioga Pass—at 9,941 feet, the highest paved road in California. From Tioga Pass you'll begin a sharp, twisty descent down the sheer eastern face of the Sierra Nevada, and upon reaching the base of the mountains you'll find yourself in the parched deserts east of Yosemite. Head to nearby Mono Lake, which is fed by melting snow from the Sierra Nevada and famous for its strange "Tufa" rock formations along the shore. After exploring these geological oddities, finish off your day with dinner at the Whoa Nellie Deli in the nearby town of Lee Vining.
James Kaiser is an award-winning author of books about several national parks, and in honor of National Park Week and some of his favorite parks, he has written itineraries for road tripping families for a few of his favorite parks. Today's post gives families his tips on how to explore Yosemite National Park. James' book, Yosemite: The Complete Guide: Yosemite National Park, has won several awards, and has spectacular photos as well as great tips and information on how to best enjoy the park.