One of the few places we've traveled in the past year has been the bucolic Astoria, Oregon (read part one in this story). With many outside attractions, we managed to safely visit the region with side trips into Washington's Long Beach Peninsula (our recommendations here and here).
Without further ado or fanfare, here are more suggestions for your own road trip:
Hanthorn Cannery Museum (And Geocache)
Website: https://canneryworker.org/
A small, but interesting, museum located on Pier 39 on the edge of downtown, the Hanthorn Cannery Museum pays tribute to the fish processing industry and the Bumble Bee Seafood Corporation (a major employer during the town's heyday). The self-guided museum is housed inside three industrial freezer rooms that were once packed full of frozen tuna and now house old canning equipment, wooden gillnet boats, and life size banners of the women who once manned the production lines. The Hanthorn Cannery Museum is open 9am-6pm daily and does not charge admission (donations are appreciated and the small gift shop sells new and used items on the honor system). If you geocache, you'll find a container hidden in plain sight.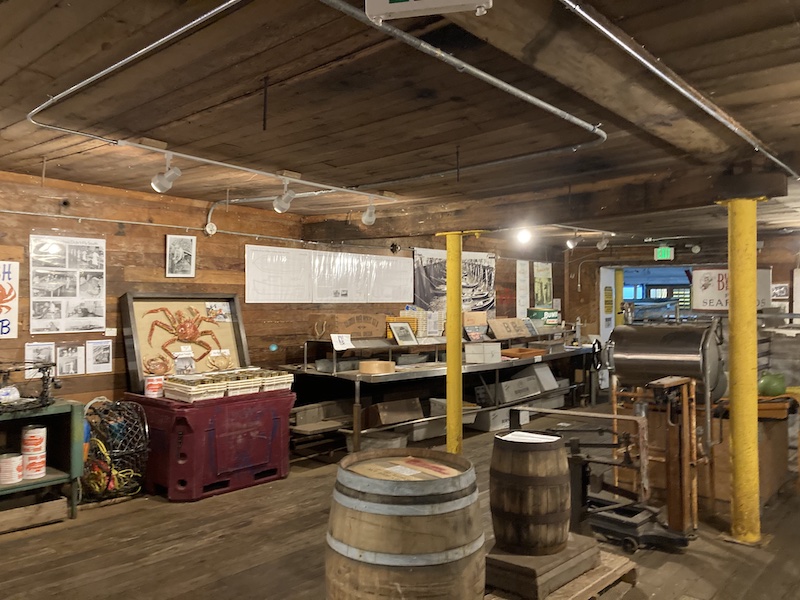 High Life Advenventurs Zip Line Tours
Website: https://highlife-adventures.com/
The guided course tour at High Life Adventures takes guests on an eight zipline adventure over seasoned timber, ponds, and a seven-acre lake. While we haven't experienced this destination (because COVID), we did pop over to take a look. We're crossing fingers summer weather and safer travel conditions welcome us back for the full experience, complete with lunch or dinner and a beer at the High Life Zip N'Sip Restaurant in the lodge building (or at the picnic area near a group campfire).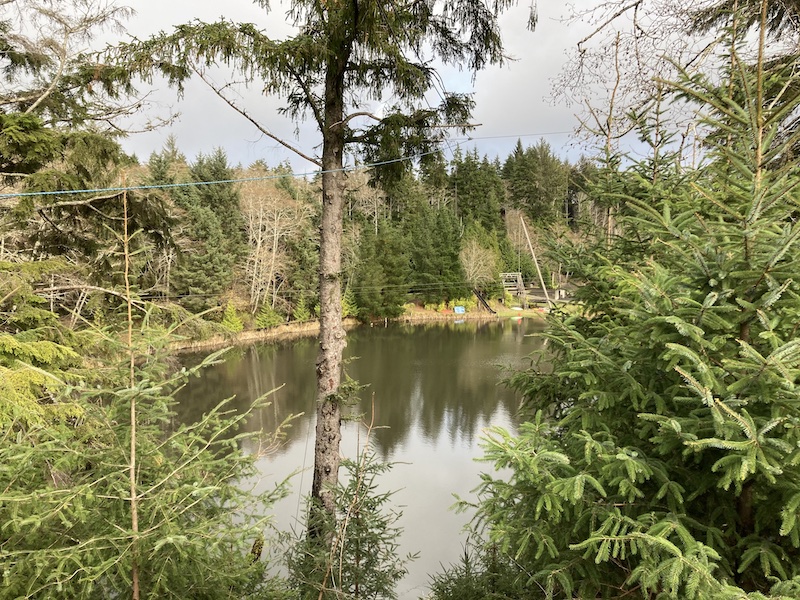 Youngs River Falls
Website: https://www.alltrails.com/trail/us/oregon/youngs-river-falls
Less than ten miles from downtown Astoria, Young's River Falls is an easy-to-find 50-foot waterfall on Youngs River. A short walk down to the riverbank is not well suited for folks with limited mobility, strollers, or a proclivity to trip on their own shoelaces (me), but the lower vantage point brings you past a small cave and to a rocky swimming beach/picnic spot. We suspect this might be a popular local swimming hole in the heat of summer (and when the water wasn't gushing with springtime rain, as we experienced during our recent visit).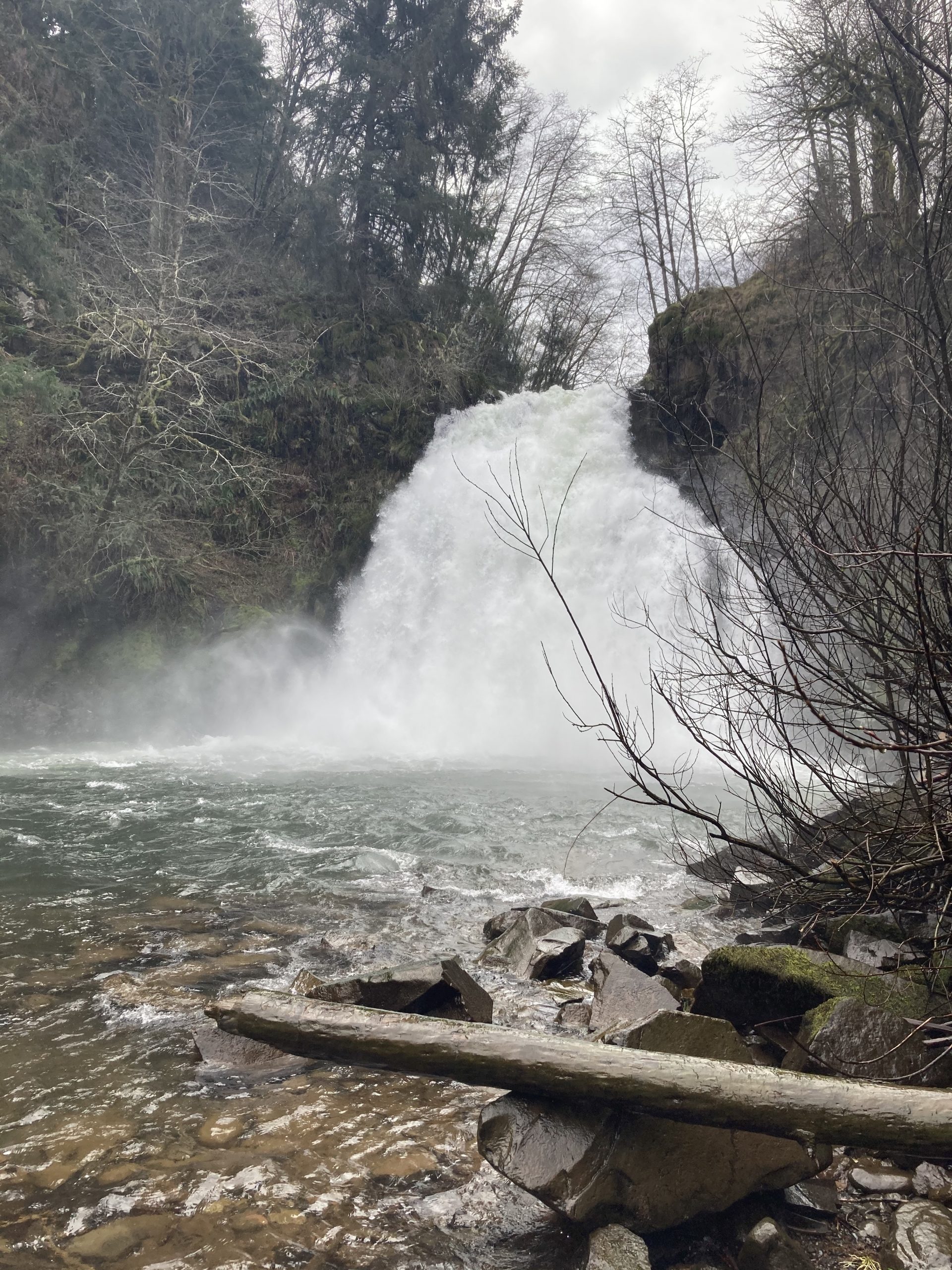 Ship Out Fish and Chips
Website: None (92351 Lewis and Clark Rd.)
We discovered Ship Out Fish and Chips through a combination of chance and curiosity. The first "indoor" restaurant we've been to in nearly a year, patrons place their order from the outdoor food truck and can dine either on the outside patio or in the covered greenhouse/eclectic gift shop. Look for goldfish in the wishing fountain, tiny birds scouting for crumbs, and an assortment of cards and boardgames to pass the time. We split an order of fish and chips and clam chowder and that was wonderful too.

Tapiola Park Playground
Website: https://www.astoriaparks.com/tapiola_park_.aspx
If you have elementary-age kids, the Tapiola Park playground will win you serious parenting points. A large wooden playground is the main attraction, but you'll find baseball fields, basketball courts, picnic shelters, restrooms, and a skate park. The playground is within walking distance of a Dairy Queen, if you feel like a sweet treat to round out the day.
Where to Stay
Find family-friendly accommodations in Astoria, Oregon, from traditional hotels to private Air B&B homes through Stay22.com:
But Wait, There's More!
Just across the iconic Astoria–Megler bridge and on the Washington side of the Columbia River, are two easy destinations for families looking to incorporate social studies into your day.
Middle Village – Station Camp
Website: https://www.nps.gov/lewi/planyourvisit/stationcamp.htm
Maintained by the National Park Service, Middle Village – Station Camp is a self-guided walking tour on what was once an active dwelling and Columbia River trading post for the Chinook people. Before the site was visited by Lewis and Clark on their famous expidition, over ninety ships from Europe and New England are documented to have crossed the Columbia River Bar to trade with Native Americans.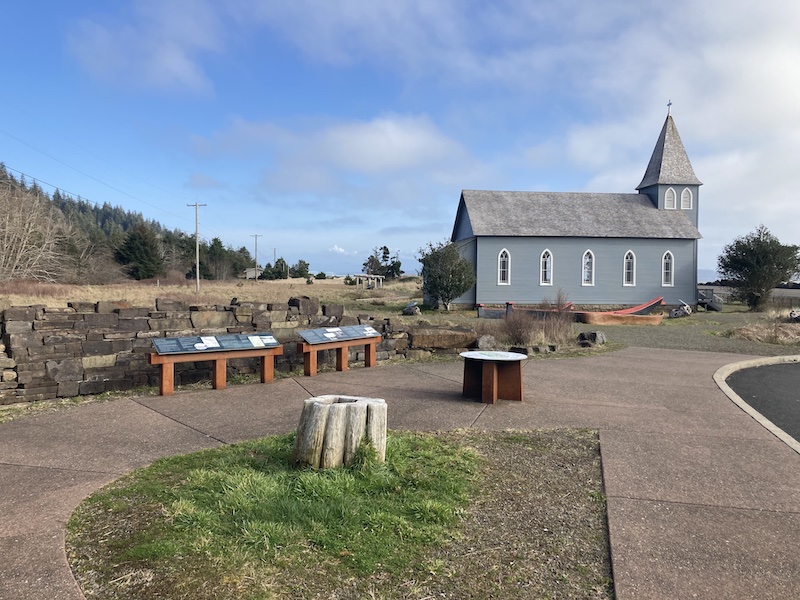 Fort Columbia Historical State Park
Website: https://parks.state.wa.us/506/Fort-Columbia
Fort Columbia Historical State Park is a 618-acre, day-use historical park located within Lewis and Clark National and State Historical Park. Decommissioned in 1947, Fort Columbia was once an active coastal defense site (constructed between 1896 and 1903, renovated during World War II). While the interpretive center is currently closed due to COVID, visitors are able to walk the park grounds, past barracks, dormitories, a hospital, officers' homes, artillery batteries, and two 6-inch, rapid-fire, World War II-era guns (among six still in existence).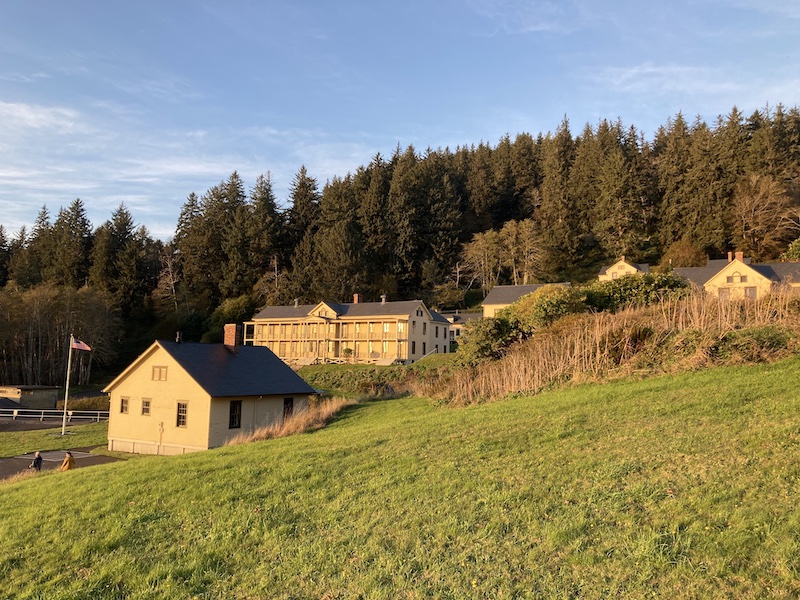 Happy Trails!